Kim Kardashian's New "Brown Sugar" Soft Tones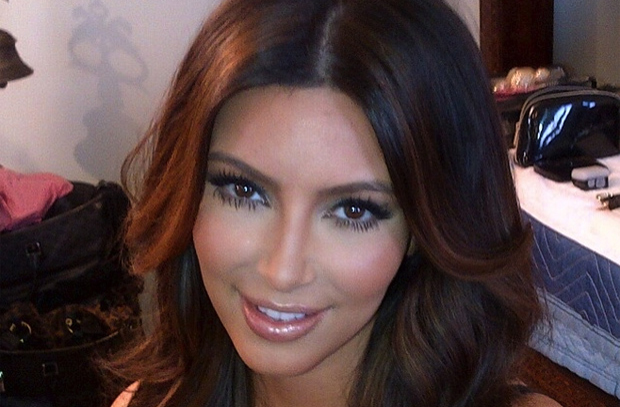 These ribbons of "brown sugar" spun through Kim's already gorgeous, luxurious brunette locks obviously look amazing! What a refreshing change for someone who has always worn their hair dark and solid! Before I share an idea on how to achieve this look I feel like this conversion from very rich, very dark hair brings up a couple of important points to take into consideration.

In the rare case that you would meet up with a similar incredible canvas and wanted to highlight it then formulation would be a cinch! If you could honestly deem it "virgin hair", or knew that it had only endured minimal glossing or glazing, your tool choices would be plentiful. A perfect choice would be Goldwell TOPCHIC NeutraLights Violet-Ash. This would give you the most lift AND the most control. There are other options utilizing TOPCHIC 11 or 12 Series colors but ideally THIS is what the NeutraLights were designed for!

Realizing that most long, dark hair we encounter is indeed color-treated we need to change our game plan. In a perfect world it would be fantastic to take the time to do a few test strands to see how easily the haircolor thru the mids and ends will shift. The warm zone (and even the first several inches!) will usually move quite easily. We need to make sure we can achieve EVEN lightening all the way down the strand. My formulae and technique below are for long, color-treated hair that is NOT a candidate for NeutraLights.

Kim's Dark Chocolate / Brown Sugar Combo

This technique is simple and fast and utilizes our new Cool Brown shade 5BP now available in COLORANCE!

Background foundation:
NEW Colorance 50mls 5BP w/ 100mls NEW Colorance Lotion

Decolorizer:
1 scoop SILKLIFT Gentle w/ 35mls 10 volume + serum

Overlay/Toner:
30mls New Colorance 8SB w/60mls New Colorance Lotion

I part the four classic quad sections and keep the hair sectioned this way to start my dimensional work. Introduce panels of the SILKLIFT Gentle on diagonals within each section. As you work from bottom to top in each section, the lines will "box" themselves in and will concentrically line up with the slices in the adjacent squares. I alternate slices and weaves throughout. Stronger slices are necessary in the longer lengths underneath but more woven, skillfully placed pieces look better near the perimeter and visible areas. Use a Color Board to support your work if the hair is heavy or hard to hold. Neatly diffuse the lightener out from the root area. The Colorance 5BP formula should be applied between foil placements. Use the brush tip on the bottle or a bowl and brush to apply at the scalp and then work the color thru to the mids and ends as you build up through each quad. Use a mist of ColorGlow IQ Structural Equalizer Spray on the sections of hair to be Coloranced. Keep the decolorized sections in long panels for even processing and compact closed. Minimal handling will keep the foils in place and prevent bleeding. Turn your brush sideways and finesse the Silklift onto the foils to prevent hard lines near the scalp. Complete all four quadrants, finishing with a solid square of dark on top.

Once a nice 7-8 level of decolorization is achieved, begin the basin procedure. Use the ColorGlow IQ Post-Color Shampoo and Conditioner. Try rinsing the dark color as much as possible before pulling the foils out.

Apply the Colorance 8SB to the hair after towel blotting or perhaps AFTER the haircut. Process, rinse and finish accordingly.

Skillfully being able to introduce "Light" into heavy, dark, or monochromatic canvases is a real business builder and showcases your haircolor expertise. Remember that there are far more brunettes on the planet than any other color! Never discount just how dazzling your brunette clients can be! If you enjoy formulation and technique work please come explore with us at one of Goldwell's North American Academies! We'd LOVE to see you! Happy Haircoloring to everyone! Love, Robert Brown.